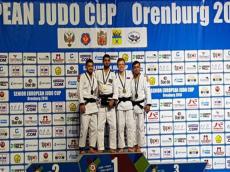 By  Azertac 
Azerbaijani judo fighter Mehman Sadigov has won a gold medal at the European judo cup in the Russian city of Orenburg.
He secured the medal after defeating all his rivals in the men's 60kg final.
Another Azerbaijan judo fighter Karamat Juseynov grabbed a silver medal.
A total of 279 judokas from 16 countries were contesting medals at the European cup.