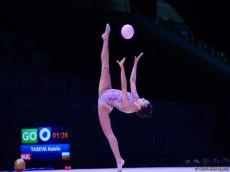 Trend:
Bulgarian team won the gold medal in FIG Rhythmic Gymnastics World Cup in Baku in the Groups' Apparatus Finals with three balls and two ropes.
They scored 19.050 points.
Japanese gymnasts won the silver medal with 18.000 points. Ukrainian gymnasts also got the same score, but came in third, as they had lower points for performance.
The finals of the FIG Rhythmic Gymnastics World Cup kicked off in Baku April 29.

Competitions are being held at the National Gymnastics Arena.