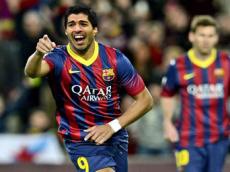 Despite almost a month of the transfer window still remaining, the summer of 2014 has already been quite remarkable.
Following Gareth Bale's world-record €100 million move from Tottenham to Real Madrid last year, we have already seen the €80m barrier broken twice this time around.
With clubs enjoying greater commercial and broadcast revenues than ever and on the back of the shop window that is the World Cup, it is safe to expect more big signings between now and September.
But what have been the most expensive transfers so far?
Luis Suarez may have seen his World Cup end in ignominy, but it wasn't long after his time in Brazil that Barcelona paid what is currently the biggest fee of the summer - a staggering €88m - to bring the Premier League player of the year to Spain.
Not to be outdone by their Clasico rivals, Real Madrid splashed out €80m on James Rodriguez, who captured the attention of the world with his Golden Boot-winning performances in Brazil and promptly moved to the Spanish capital from Monaco. Interestingly, this is the only transfer currently in the top 10 not to include a club from England's top flight.
David Luiz will not be missed at Chelsea according to Jose Mourinho, but Paris Saint-Germain will hope that their €49.5m outlay on the Brazilian - the highest fee ever paid for a defender - will not go to waste. Chelsea, of course, wasted little time in reinvesting the funds, paying €44m to Atletico Madrid to bring Diego Costa to Stamford Bridge.
Currently in fifth place is Alexis Sanchez, who became Arsenal's second most-expensive player when he joined from Barcelona. Just behind him is Luke Shaw, whom Manchester United made the costliest teenager in football history when they forked out just over €37.8m to Southampton for his services.
Shaw's new United team-mate Ander Herrera is seventh in the table, with Athletic Bilbao receiving €36.5m for the midfielder, with Cesc Fabregas' return to the Premier League placing him in eighth.
In ninth place - the fourth deal involving Chelsea in the table - is Romelu Lukaku, who joined Everton in a club-record transfer, while Adam Lallana completes the current top 10 after joining Liverpool for €31.5m.
A number of other significant summer moves just fall short of a place in our list. Toni Kroos and Antoine Griezmann both cost a fraction around €30m as they joined Real and Atletico, while Mario Mandzukic - Costa's replacement at Atleti - is down in 15th with a fee of around €22m.
Juan Iturbe is the most expensive signing made by a Serie A side so far, with Roma's new attacker placed ahead of Alvaro Morata. Jeremy Mathieu became the most expensive defender ever over the age of 30 while Ciro Immobile is the priciest Bundesliga arrival of the summer at €18.5m.
Ivan Rakitic and Jan Oblak both make the top 25 along with Manchester City newboy Fernando, while Iturbe, bizarrely, appears again at No.24 after Hellas Verona initially paid Porto to acquire the full rights to the player before his Roma move.

/Goal.Com/