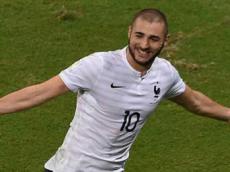 Carlo Ancelotti was in no doubt before the World Cup started. The Italian manager made it quite clear to Florentino Pérez and José Ángel Sánchez that Karim Benzema was key to his plans. The possibility of signing Luis Suárez had left the French international's future up in the air.
Recently, Benzema has proven to all that Ancelotti was right. His World Cup performances are so sublime that they should be framed. He is leading France with great moves and even greater goals. Against Switzerland, the player scored again and gave assists to another two. So far in this World Cup, he has scored three times and has been the MVP in both of the two games played up to now.
The Real forward has shaken off the niggles that were preventing him from playing at his usual level towards the end of last season. Before he picked up his muscular injuries, the Frenchman had played some spectacular football for his club. In Brazil, he seems to have got his old winning ways back.
Good, but also bad news for Real Madrid, on seeing how well their French forward is doing in Brazil. Good, because with luck he will soon be working much the same magic for them. Bad, because his contract is up for renewal - and quality never comes cheap...

/Marca/