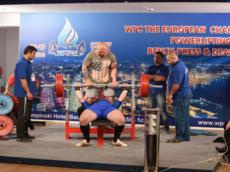 By AzerNews
The European Powerlifting Championships kicked off in Baku on June 12.
Addressing the opening ceremony, President of the Azerbaijani Powerlifting Federation Aladdin Aliyev read out a congratulatory letter of the honorable President of the Federation Sevil Aliyeva.
Deputy Youth and Sports Minister Ismayil Ismayilov, in turn, spoke of Azerbaijani government's attention to the development of sports in the country.
He said Baku became one of the sports centers of the world due to care and attention of the Head of State and President of the Azerbaijan National Olympic Committee Ilham Aliyev.
Speaking at the event, President of the World Powerlifting Congress Mike Sweeney thanked Azerbaijan for excellent organization of the tournament.
A press conference was held prior to the opening ceremony of the championships.
"There are all necessary conditions in Azerbaijan to hold World Powerlifting Championship," Sweeney said, addressing the press conference.
Aladdin Aliyev, in turn, noted that it is possible to hold such events even in the regions of Azerbaijan, adding the modern sports complexes have been built there.
He also added that over 50 Azerbaijani athletes would vie for the medals.
The event is co-organized by Azerbaijani Ministry of Youth and Sports, National Olympic Committee, World Powerlifting Congress, Baku City Youth and Sports Department and Azerbaijani Powerlifting Federation. It brings together nearly 300 athletes from 27 countries.
The tournament will last till June 15.