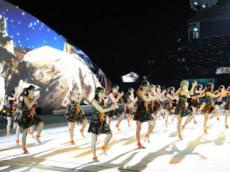 The official opening ceremony of the 30th Rhythmic Gymnastics European Championship was held in the National Gymnastics Arena in Baku, the capital of Azerbaijan, on June 13.
Azerbaijan's youth and sport minister Azad Rahimov greeted the guests, wished success to the participants.
"Gymnastics reborn in Azerbaijan after election of Mrs Mehriban Aliyeva as the President of AGF in 2002", the Minister said. "The country's gymnasts have many achievements gained at the authoritative world contests. Azerbaijan has hosted many such sports festivals thanks to the First Lady of Azerbaijan".
The Minister underlined that successful sport policy pursued by the Head of State, President of Olympics Committee Ilham Aliyev has exclusive role in gaining world fame.
The opening ceremony was addressed by Patrick Hickey, President of the European Olympic Committee, Georges Guelzec, President of European Union of Gymnastics (UEG).
Over 258 gymnasts from 33 countries compete for the nine sets of awards in the tournament that is being held in Baku for the third time.
The qualifying individual junior tournaments in A, B and C groups will be held on the first day of the competitions. The athletes will perform with a ball and a hoop.
Additionally, the group teams of seniors will perform with 10 clubs, as well as three balls and two ribbons today.
The Rhythmic Gymnastics European Championships in Baku will last till June 15.