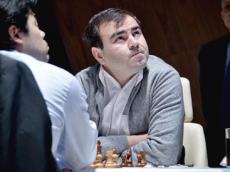 Chess` international watchdog, FIDE, has announced its rankings of the world`s top in Standard, Blitz and Rapid events for May, 2014, placing Azerbaijan`s grandmaster Shahriyar Mammadyarov 11th with 2,760 points in the standard event, 6th with 2799 points in the rapid event and 7th with 2822 points in the blitz event respectively.
Norwegian Magnus Carlsen tops the rankings with 2,882 points in the chess standard event.
In the blitz and rapid events American GM Hikaru Nakamura tops the list.
Another Azerbaijani GM Rauf Mammadov ranks 13th in the blitz event with 2,766 points as well.

/AzerTAc/