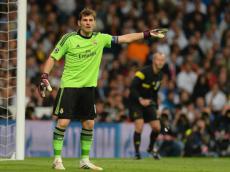 La Liga has been deprived of Iker Casillas for too long. 473 days to be exact. But the drought is over. Real Madrid will go out at the Zorrilla stadium with their number 1 goalkeeper, playing his fifteenth consecutive season in the national competition.
On 20th January 2013, Casillas played his last league match at the Mestalla, which the team won 0-5. In the following game three days later, an accidental kick from Arbeloa injured his hand, putting him out of action. What happened next is well-known. The death throes of the José Mourinho regime saw him side-lined and Ancelotti, on his arrival, went for a rotation system in goal, with Diego López as the starter in the domestic league games.
Iker was then left with two competitions, a maximum of 22 games to play during the whole season and a promise from 'Carletto': "If we reach the final of the Champions League, Casillas will be able to play in 'la Liga' to maintain continuity". Come May, after winning the 'Copa', qualifying for the big Lisbon final, he has been awarded two bonus games in 'la Liga', against Valladolid and Espanyol.
The 24 games he will play this campaign represent his lowest career total, but his season record is the best of his career so far. He has conceded 9 goals in 21 matches - an average of 0.43 goals conceded per game.

/Marca/