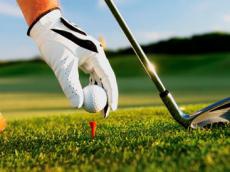 By AzerNews
Azerbaijan's Golf Federation (AGF) will hold a Challenge Tour golf tournament dedicated to National leader Heydar Aliyev, President of the AGF Anar Mammadov said on April 29.
"The event will bring together 72 amateurs from around the world," Mammadov said, adding that holding such events on a national scale will play an important role in the promotion of golf as a sport.
The Open Tournament will be held in Guba National Golf Club on July 30 - August 3, and will be broadcasted by European TV channels, AGF president stated, adding that the prize of the tournament is €300,000.
Mammadov said Head of the European Tour International Nick Tarrat arrived in Azerbaijan to get acquainted with the golf academy and National Golf Club at the invitation of AGF on February 15, and following the visit, an agreement was reached with the "European Tour" to hold "Challenge Tour" in Azerbaijan.
Because golf is a new sport in Azerbaijan, foreigners will represent the country in the tournament, AGF President said, emphasizing that the federation intends to create women's and men's golf teams in the future.
"Our main goal is to win a ticket to the Olympic Games 2016 which will be held in Rio de Janeiro," Mammadov said and stressed that golf has been included in the list of the Olympic Games since 2012, therefore AGF is carrying out serious work aimed at creation a junior national team and an Olympic team.
"We are confident that the work done in this area will be effective, and famous faces in this kind of sport will appear in Azerbaijan in the near future. Foreign experts will also help us in this regard," Mammadov said.
Speaking at the press conference, AGF Vice President Azer Alizade said several golf courses are under construction in Azerbaijan.
"The construction of golf courses with nine holes, which is planned to be operational in early 2015, is coming to an end in the neighborhood of Baku. The golf course in Bina is going through the final works. Moreover, golf courses are being built in Gabala and other regions of the country," the vice president said.
Secretary General of the federation Nigar Suleymanova, in turn, stressed that a lot of people are interested in golf in Azerbaijan.
"Basically, it is the youth who wants to enter Azerbaijan's national team. I believe that the number of Azerbaijani golfers will increase by next year," she added.
Head coach of the Azerbaijani golf team Spencer Henderson also suggested that the number of Azerbaijani golfers will increase in the near future and they will successfully represent the country in international competitions.
AGF was founded not so long ago in 2012. The federation has had some successes in such a short time, and Guba National Golf Club, as well as the Golf Academy in Baku, have been created.