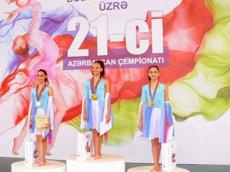 Baku hosted the 21st Rhythmic Gymnastics Azerbaijan Championship on Saturday, April 19.
The championship was held at Azerbaijan's new National Gymnastics Arena.
Some 22 senior athletes and athletes aged between 13 and 15 took part in the competitions.
The championship attracted great interest as it is a test tournament on the eve of the Rhythmic Gymnastics European Championships to be held in Baku on June 13-15.
The gymnasts competed for the medals in both all-around disciplines and separate apparatus.
Gymnasts of the Republican Complex Sports School and Baku Flames Club, as well as athletes of Baku Gymnastics School Spartak, Shaghan Olympic Sports Complex and Ojag sports club performed in the competition.
Kazakh and Hungarian gymnasts, who previously participated in the training assemblies in Baku, played in non-competitive performances during the tournament.
Marina Durunda became the two-fold champion of Azerbaijan in rhythmic gymnastics among seniors in the absolute all-around exercises. Lala Yusifova occupied the second place, followed by Gulsum Shafizadeh.
Zuleykha Ismayilova was the strongest among juniors in the absolute all-around. Silver and bronze medals were gained by Jala Piriyeva and Rugiya Sattarova.
The 21st Rhythmic Gymnastics Azerbaijan Championship was held to a packed house and the spectators actively supported the athletes' performances.
Upon completion of the performances a gala concert was held, which was attended by the winners of the championship, along with the country's group team and junior gymnasts of Azerbaijan's sports communities.
The 21st Rhythmic Gymnastics Azerbaijan Championship is the first tournament held at the recently constructed National Gymnastics Arena in Baku.
The opening ceremony of the grand sports complex was held just a few days before the tournament and was attended by Azerbaijani President Ilham Aliyev and First Lady, President of Azerbaijan Gymnastics Federation, Mehriban Aliyeva.
The construction of the National Gymnastics Arena, which is an important part of measures on further strengthening the sports infrastructure, opens up opportunities for organizing sports events of international importance at the high level.
The facade of the complex contains screens displaying interesting illuminative elements. One of the most important features that increase the importance of the arena, which is mainly intended for gymnastics competitions, is the fact that it can be adapted for other sports events and competitions.
The gymnastics arena consists of a main competition and auxiliary training parts. Depending on the scale of a competition, the number of seats in the arena can be increased from 5,000 to 10,000.
The complex, built in accordance with international standards, has a press center, a first aid station, a dance hall and a gym, doping control rooms, offices, shops, cafes and ancillary facilities. The sports facility, which is expected to become one of the best gymnastic centers in Europe, also has a hotel.
The athletes have all the conditions created for them at the newly built National Gymnastics Arena.