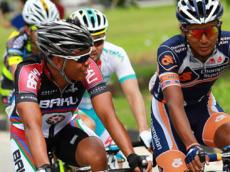 The Synergy Baku Cycling Project placed third in the team time trial which opened the Mzansi Tour in South Africa. Chris Schweizer pulled on the King of the Mountains jersey after the 5.5km team effort. The Azerbaijani team finished only five seconds slower than the winning team, Rapha Condor JLT of Great Britain.
Team manager David McQuaid was proud of his riders, in the team's first team time trial. "To my memory there has been no TTT before, 2013 included," he noted. "It's an impressive ride, if you look at the gaps behind."
Schweizer is better known as a sprinter than a climber, but today he could celebrate a rare climbing victory, even if it was more or less coincidental. "Just because I crossed the line first I got the jersey. But it was a good team effort and the jersey really belongs to every single rider on our team."
Nor was it an easy ride, he noted. "It was only 5.5km but we are at 1700 m altitude and halfway was a steep uphill with a following false flat. It's been incredibly different racing here compared to low altitude – really tough! I took the steep bit on front followed by Matt (Brammeier) who makes me really fight to get back on the last wheel.'"
"After my turn after the downhill I got a little gap but Brammi jumped in and saved me. Before the uphill to the finish Phil (Lavery) did an impressive long turn which allowed me to get a short breath to lead my guys to the finish."
Wednesday's stage one will be a challenging one, with three ranked climbs on a bumpy 140 km course from the Golden Gates Highland National Park to Clarens.

/AzerTAc/