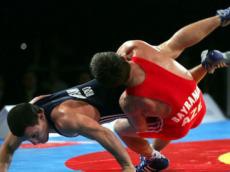 Azerbaijani wrestler Khetag Gazyumov weighing in at 97kg has today reached the final of the FILA Wrestling European Championship in Finland after smashing Ukrainian Pavel Oleynik.
He will next face Russian Abdusalim Gadisov.
Azerbaijani female wrestler Maria Stadnik weighing in at 48kg also progressed to the final of the tournament after defeating Russian Nadejda Frolova, Hungarian Mercedes Denesh, and Romanian Magdalina Lingurar respectively.
Stadnik will fight against Ukrainian Natalia Pulkovska at the final.
Other Azerbaijani female athlete Irina Netreba weighing in at 58kg reached the final of the Championship after beating Bulgarian Victoria Bobevaya and Belarus Anastasia Puchko.
Netreba will face Russian Valeria Jalobova in the gold-medal bout.

/AzerTAc/