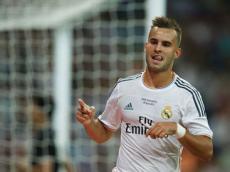 Jesé's explosion onto the scene at Real Madrid can be likened to a comet speeding through the sky. He is quickly becoming a star player and one of the most highly-rated players in Spanish football for a long time.
Jesé, who has an indefinable grace that characterises special players, has seized the opportunity handed to him. His delicate finish for Real's third goal, when the match was at an uncertain point, was simply fantastic. Moments like that can define a special player who is capable of leaving his mark on every game.
The young player was helped by great link-up play with Benzema and Di María which deserves a special mention. Jesé played a creative role throughout the match. He controlled the ball well, dug in in defence and took his goal with such calmness that the keeper was left with no chance.
The goal had an overwhelming effect on the young forward, who ended up outshining Bale and becoming the centre of attention. Every time he was on the ball the fans' pulse seemed to accelerate, as they clearly see him as something special. There hasn't been an explosion of a new player of such magnitude since Raúl.
Jesé had the time to produce yet another moment of magic. His burst of pace was as spectacular as his ability to brake, look for his teammates on the counter-attack and pick them out with a pass. Benzema was in support and finished sublimely after a perfectly-weighted pass by Jesé. The young star caught the world's attention and sent the supporters crazy.

/Marca/