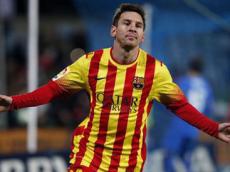 Messi is not going anywhere. "He's not for sale". Bartomeu couldn't have made it clearer regarding the Argentine ace's future. The Catalan club will soon tie up the player's improved contract: "We will sit down to talk about it with his father. Leisurely. We won't be doing it in the very near future, but we will do it", the new Barça president declared.
Bartomeu assured that Messi will continue to be the highest-paid player in the Barça dressing room: "Without doubt. The contracts are within certain parameters, and he is off the graph. He is the best paid."
The president underlined that Neymar does not get paid as much as the Argentine, and for this reason was grateful that the Brazilian had "accepted our proposal, as there were other clubs that were offering him a much higher salary."

/Marca/