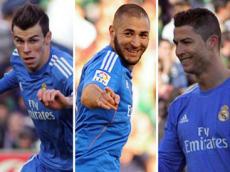 Di María tore down the left wing whilst Ronaldo made a diagonal move. Allowing the ball to run ahead of him, he was already focusing on the goal. The pass was perfect for CR7, who was approaching the edge of the box. A couple more paces and then the sledgehammer struck, demolishing the hopes and dreams of the Betis fans, with 42,000 packing out the Benito Villamarín. Andersen pulled off a nifty impression of a statue, kind of like Michelangelo's David, but not quite as impressive.
Soon after, Ronaldo was fouled just outside the box. With the free-kick in an ideal position for a left footer, the Portuguese left the opportunity for Bale, who was in need of a bit of a confidence boost. His shot lifted the ball over the wall, and essentially put the game to bed when it hit the back of the net.
And prior to the first half drawing to a close, Benzema hammered another nail into the coffin, meaning that Real's triumvirate each got on the scoresheet. The Frenchman benefited from the magical play of a certain tricky little Croat called Luka Modric. Despite three defenders sticking so close to the midfielder that they could have all fitted in a phone box, he managed to get the ball back to Benzema, who calmly did the rest.
Real might as well have just hopped on the train back to Madrid at half-time, because the game was already over.
Madrid's BBC successfully broadcast the intentions of Ancelotti's side loud and clear during the first 45 minutes. The stats Madrid's front three are racking up are almost scary. Halfway through January, Cristiano Ronaldo has notched up 31 goals, Karim Benzema has 13 and Gareth Bale has 10. In total they have hit the target 54 times. This triumvirate is truly striking terror into the hearts of the rest of the league.

/Marca/