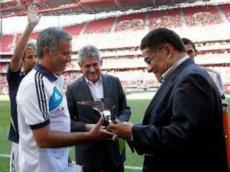 José Mourinho recalled the figure of Eusebio at the end of the FA Cup game between Chelsea and Derby County: "Eusebio is one of the greatest footballers of the history of football, especially for people from our generation and older than us. He is at this level, Eusebio, Charlton, Pele?... For Portuguese people Eusebio is Eusebio and for sure you will get some images over the next couple of days and I think you will understand what Eusebio means for our country".
"'I have known him since a kid. He played against my father. He played with my father in the national team. I met him when I was a kid. Our birthdays were separated by one day. His was on January 25, I'm January 26," he remarked.
Mourinho assured that Eusebio leaves behind "a great legacy" in the country: "He enjoyed his life, on the pitch, outside the pitch and I'm not so sad as I was in the morning because I think guys like him they never die. History is there and history doesn't let them die. He leaves a great legacy. So rest in peace".

/Marca/