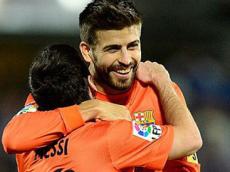 The Spain international has urged the Santiago Bernabeu side to accept the situation as it is and has voiced his dismay with the smear campaign against Lionel Messi.
Barcelona defender Gerard Pique has taken a swipe at Real Madrid, saying they are unable to cope with the Catalans' success in recent years.
Madrid have won only one domestic title in the past five seasons to the Blaugrana's four, while they have been unable to match their arch-rivals' success in the Champions League in the 21st century.
And Pique is not impressed with the way Madrid have behaved in public.
"It appears to be very difficult for Real Madrid that Barcelona are winning a lot of silverware," Pique was quoted as saying by Sport.
"They have to accept the situation as it is. Sometimes you win and sometimes another team wins.
"Football is going in cycles and it's Barcelona's cycle now."
The centre-back then responded to the ongoing attacks aimed at Barcelona in general and Lionel Messi.
"People are attacking us from all angles," he continued.
"Messi's case? There comes a point where you have to say 'enough'. There has to be justice at some point as people continue to accuse him of things he did not do."
Barcelona are currently preparing for the restart of La Liga at home against Elche on Sunday.

/Goal.Com/