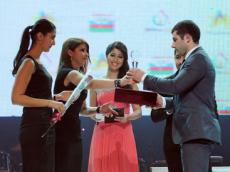 By AzerNews
Azerbaijan named the best athletes of the current year on December 23.
Representatives of the Youth and Sports Ministry and National Olympic Committee, Olympic champions, and winners of international competitions, as well as other guests, attended the ceremony.
Twice world champion in boxing, and Olympic bronze medalist, Magomedrasul Mejidov, world champion in judo, and bronze medalist of 2010 World Championship and silver medalist of the 2008 European Championship Elkhan Mammadov, as well as world champion in boxing Javid Chelebiyev were named Azerbaijan's three best athletes of 2013.
Moreover, world championship's bronze medalist in judo Orkhan Safarov, silver medalist in freestyle wrestling Khetag Gazyumov, silver medalist of world championship and European Boxing Championship Teymur Mammadov, bronze medalist in weightlifting Firudin Guliyev, as well as bronze medalist in taekwondo Radik Isayev, European judo champion Ilham Zakiyev and European karate champion Rafael Agayev were named as the best athletes of year.
Later in the day, the best coach, sports federations, society, sports club and sports complex of the year were also selected.
Judo Coach Aganagi Jafarov, Boxing Coach Yadigar Mammadov, and Greco-Roman Wrestling Coach Ismail Chopsuev were named as the best coaches of 2013.
Azerbaijan's Wrestling Federation and Federation of Boxing, as well as fitness center Neftchi, sports club Umid, and the Olympic Sports Complex in Kurdamir were also awarded.
Moreover, some media and journalists received awards for their coverage of sports events.
Addressing the event, Azerbaijan's Youth and Sports Minister Azad Rahimov said that like previous years, 2013 was a successful year, adding that this year Azerbaijani athletes have earned about 800 different medals.
"Our achievements this year were high," he said.
"This indicates that Azerbaijan supports sports and comprehensive conditions are created for athletes," he added.
The minister also said Azerbaijan hosted tremendous international competitions this year, and in the future will hold a number of important international events.
"The upcoming years will be important for us and we should all be ready for them," Rahimov added.
Addressing the event, Vice President of Azerbaijan's National Olympic Committee Chingiz Huseynzade also said after the Olympic Games in London, Azerbaijani athletes won four gold medals.
He went on to note that the development of sports in Azerbaijan is very dynamic.
"We have a great hope about the future, because the first European Games will be held in Baku in 2015. This is an indicator of Azerbaijan's high achievements on the road to development. In the future we plan to develop our successes," Huseynzade said.
Then, a short film dedicated to the success of Azerbaijani sportsmen was shown at the ceremony.