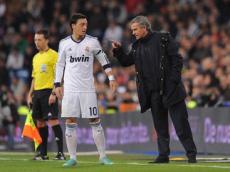 José Mourinho discussed the sale of Mesut Özil, whom he branded the last piece in Arsenal's jigsaw, in an interview with the Daily Mirror. "I was surprised Madrid sold Özil, but I understand what Real Madrid is", he stated.
"It is a huge club, but it is also a club that needs to do what they did with Gareth Bale and Isco. They need to buy the best young player in Spain. They need to buy probably the best player in the world not playing for the really big clubs", he explained. "They had three years of Mesut, very good years. They sold him for more money than they bought him for - and got Bale and Isco", the Portuguese coach continued.
The Chelsea manager believes the German playmaker's arrival has turned Arsenal into genuine Premier League contenders: "Mesut and the evolution of the other players can transform ­Arsenal into champions. Mesut is a phenomenal player. He's one of these players that you buy to complete the puzzle of your team", he raved.
"You don't need time, you need nothing. The player just arrives. You have an empty space waiting for him, you put the player there and you know automatically that your team becomes better. He arrived, Arsene gave him the shirt, he immediately started playing and immediately the team became better", Mou added.
"It's impossible to stop him for the entire game as these kinds of players always have a ­moment, or couple of moments, where you cannot stop them and they end up showing why they are so good", the Portuguese tactician concluded.'

/Marca/