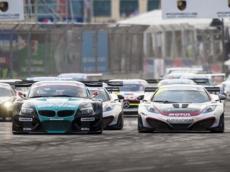 The race Baku World Challenge 2013 will take place on the weekend of 23-24 November and will be one of the most important events of the FIA calendar of this year.
The motosport event is organized around a Main GT3 Automobile race with 14 international race teams and 30 GT cars and Formula 1 Historic support race with 15 Formula 1 Cars.
A full grid of spectacular GT3 cars will line up on a newly designed 4 kilometre long street--circuit, which stretches along the Caspian Sea, and centred around the National Flag.
Aztexnika Ltd. MMC, the main partner of the event, promises a technical circuit, with wide turns and fast corners, which promises a lot of excitement for the drivers.
Given the magnitude of the prizes to be awarded at the end of the race, the level of difficulty of the circuit , and the position of the Baku World Challenge in the Championship, this event will be truly special and will make Baku on the center of spectators worldwide.
The race will be live broadcasted on Eurosport channels in the main European countries, Australia, Asia, America, Middle East and Africa, and will be shown in more than 175 countries.
To make the local people in Baku aware of the event, Baku World Challenge kicks off with spectacular City Parade on Friday, November 22, which will be a fantastic appetizer for the race during the weekend.
Baku World Challenge 2013 is a great way to promote the city of Baku and the country of Azerbaijan to a worldwide audience by showing the dynamic, innovative and attractive character of the country.
Tickets are available on sale in the city kassas, at the Kempinski Hotel Badamdar andQafqaz Baku City Hotel.

/Trend/