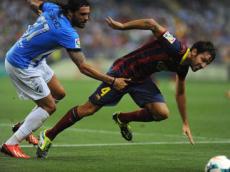 Two La Liga gameweeks and one Super Cup game are all it has taken for alarm bells to go off at the Camp Nou amid calls for protection for players like Messi and Neymar, following the tough tackling tactics that its opponents employ to stop them.
The long-standing debate was first reopened when the Argentine fell injured at the Calderón and then again following some tough tackles on Neymar last Sunday at La Rosaleda.
The controversy kicked off last Wednesday when TV footage appeared to show Godín inciting one of his teammates to strike Messi on his injured leg. The Atleti player had to come out and clarify and defend his gestures. Leo had to go off at the break due to a bruised hamstring and he was subsequently ruled out of the Malaga game.
Four days later it was Neymar who suffered at the hands of some tough defending, with harsh tackles raining in from Gámez, Darder and Sergio Sánchez. These drew complaints from Barça's sporting director, Andoni Zubizarreta, who never usually comments on referees' performances. "We hope that referees blow for every foul made on Neymar", said Zubizarreta.
/Marca/