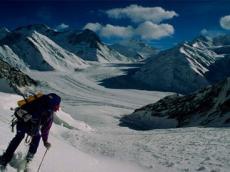 Source:
/AzerNews/
Azerbaijani climbers, members of the Azerbaijan Mountaineering Federation, Firuz Dadashov and Sirhan Mammadov, reached the top of the Khan Tengri peak, the second-highest mountain in the Tian Shan system of mountain ranges in Central Asia, on August 16.
According to the Federation, the ascent was preceded by poor weather and snowfall. Despite the large amount of snow, the climbers managed to make their way to the top of the formidable peak.
The climbers started ascending to the Khan Tengri peak on July 26.
Afterwards, the athletes arrived at the base where they will rest for a few days before embarking on their conquest of another peak, Pobeda.
The athletes will be honored with the "Snow Leopard" award if they successfully conquer both Khan Tengri and Pobeda, the highest mountain in the Tian Shan mountain system.
It is necessary to conquer five peaks of Central Asia, including Khan Tengri (7,010 m), Victory (7,439 m), Lenin (7,134 m), Korjenevskaya (7,105 m), and Communism (7,495 m ) to gain the title.
621 people have been honored with the title in more than half a century. The first Azerbaijani climber who gained this award was President of Azerbaijan Mountaineering Federation Israfil Ashurlu in 2009.
Moreover, two expedition groups of Azerbaijani climbers ascended to Mount Kazbek located in the Caucasus Mountains range on August 10 and 15.
In May, Azerbaijani climber Murad Ashurly hoisted the flag of the country on Mount Everest, the tallest mountain in the world.
The Azerbaijan Mountaineering Federation has been active since 1997 and is involved in the development of mountain climbing in the country as well as represents this sport in international sports organizations and associations.
The Federation cooperates with Azerbaijan's Youth and Sports Ministry to attract people to sport activity, manpower training, training national teams and sending them to international competitions, and is responsible for their performances including honorary awards.