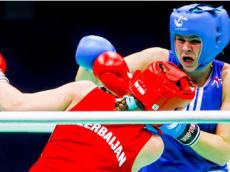 Azerbaijani women's boxing team have successfully competed in the international tournament taken place in Germany, Hamburg. The National team scooped 3 golds, 2 silvers and a bronze in Hamburg.
The golds came from Aziza Abbasova weighing in at 51 kg, Leyla Javadova weighing in at 75 kg and Alina Hajiyeva weighing in at up 81 kg.
Jeyran Dadashova weighing in at 48 kg and Aynur Rzayeva weighing in at up 81 kg finished the tournament in second place. The bronze of the national team came from Anakhanim Agayeva weighing in at 51 kg.
Boxers of 12 countries including, Sweden, Norway, Poland, Denmark, Turkey, Austria, and Czech Republic which have strong traditions in this sport style also participated in the tournament.

/AzerTAc/