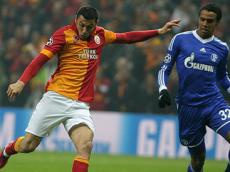 Galatasaray and Schalke 04 finished 1-1 in the first-leg match of the Champions League last 16 in Istanbul's Turk Telekom arena, with goals by Burak Yilmaz and Jermaine Jones in the first half.
Galatasaray's two sensational mid-season transfers, Ivorian striker Didier Drogba and Dutch midfielder Wesley Sneijder, were on the field among the starters in tonight's game, creating much expectation among the Istanbul side's supporters. The 52,000 seat Turk Telekom Arena was completely full in a boiling atmosphere.  
However, it was Schalke 04 had the first opportunity to score in the game with Jermaine Jones in the first minute, but his ball was saved by Fernando Muslera. The German side appeared to possess control over the ball during the first 10 minutes of the match. Meanwhile, the Lions tried to create a sense of danger with their attacking duo Drogba and Burak Yilmaz. 
Burak converted Galatasaray's first dangerous opportunity into a goal at the 12th minute. The competition's top scorer sublimely controlled the ball and scored in a one-on-one with Schalke 04 goalkeeper Timo Hildebrand with a flawless finishing touch. 
Only five minutes later, Drogba had a clear opportunity for a second goal in a fast attack display by Galatasaray. His shot was deflected by Hildebrand and the ball fell in front of Hamit Altintop, but the Turkish international and former Schalke player hit the crossbar. This was Galatasaray's seventh and Hamit's third shot on the bar in the Champions League. 
Following Galatasaray's first goal, Schalke took back possession of the ball. In the 20th Diego Farfan shot was deflected by Semih Kaya. 
The Istanbul side responded with several dangerous counter attacks. Sneijder shot at the 25th minute but the shot went wide. Burak had also a couple of opportunities in 37th and 40th minutes well saved by Hildebrand.  
In the last minute of the first half, Farfan led a counter-attack and found Jones who beat Muslera in a one-on-one for the equalizer.
Sneijder was substitued with Nordin Huntelaar right in the beginning of the second half. Galatasaray enjoyed more possession during the second half and increased their pressure on Schalke 04 after the 70th minute.
In the 76th minute, Drogba found a connection with Burak, out-jumping Schalke's defense and sending a superb assist with a header to the Turkish International. Burak's cross went just a tad wide of the sidebar.
In the 78th minute, Hildebrand had to use his fists to save a missile from Sabri Sarioglu from outside the penalty area. Schalke had its most dangerous position in a counterattack in the 79th minute, but Muslera managed to send a to corner Draxler's shot.   
The hosts hope to reach the quarterfinals for the first time since 2001, while Schalke has qualified for the last eight twice in recent campaigns, in 2010/11 when it was a semifinalist, and in 2007/08.
/HurriyetDailynews/