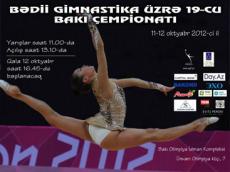 The 19th Baku Rhythmic Gymnastics Championship will be held on October 11- 12. About 94 gymnasts, divided into 6 age categories, will take part in the competitions. They are seniors and juniors as well as participants born in 2000-2001, 2002, 2003 and 2004.
The sportswomen will compete for the medals only in the all-around.
Along with the gymnasts from "Neftchi" and Baku Gymnastics School, Republican Complex Sports School and "Spartak", sports societies of the Ministry of Internal Affairs and "Sarhadchi", sportswomen of "Baku" Professional Sports Club, Children-Youth Creativity Center of Nizami district and Olympic Sports Complex of Shaghan will also participate in the event.
The competitions start at 11.00 at the Baku Olympic Sports Complex.
/agf.az/