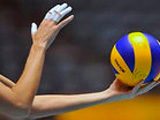 Azerbaijani volleyball player Natalia Mammadova, who was  tranferred from Azerbaijani "Rabita" team to Russian "Omichka", shared her thoughts regarding the 2012 Olympics in London.
"Of course we would want to be at the Olympics right now. Every athlete wants to enter the Olympics as it is the highest step in a sports career," Mammadova said.
"Since we did not enter the Olympics, it means we are not yet ready for it. So far, I just follow the tournament, watch Russia, Serbia, I have friends there," Mammadova added.
Regarding her transfer to Russian "Omichka" club, Mammadova noted a few positive things about the transfer.
"Good thing is that the team is participating in the Eurocup, since I would not want to miss it after the Champions League," she said.
Thus far Azerbaijan's achievements at the Olympics have been less than impressive - one bronze medal. However, the Olympics are not over yet, so Azerbaijan has a chance to win the prize medals.
/1News/