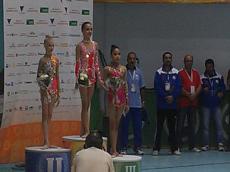 Yakutsk is hosting the fifth international sport events 'Children of Asia' and young Azerbaijani gymnasts won five different medals here.
According to the news service for the Azerbaijan Gymnastic Federation , Nilufer Niftaliyeva, who finished first in all-round events performed brilliantly well.
Her team-mate Mansura Bagiyeva finished seventh. Silver went to Russian sportswoman and bronze to the representative of Kazakhstan.  In the exercise with the ribbon she got the silver award, and in the exercise with the ball she stepped on the third step of the podium.
/Day.Az/