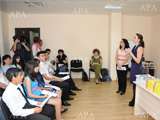 The awards ceremony of the winners of "Writing Olympics 2011" writing competition was held in US-Azerbaijan Education Center. APA reports that a total of 483 Azerbaijani pupils and students participated in Writing Olympics 2011.
Eight of them won International Writing Olympics awards. They were presented certificate and collection of essays gathered in the competition.
This competition has been held since 2004. Azerbaijan joined this competition in 2005.
/
APA
/