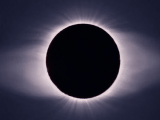 A lunar eclipse will be observed this night. Director of the Nasiraddin Tusi Observatory Eyyub Guliyev said the eclipse will begin at 23.22 by Baku time and finish at 03.02.
There will be total lunar eclipse during one hour and 40 minutes. The moon will pass completely behind the earth, which will be between the sun and moon. Guliyev said lunar eclipse take place for three-four times a year.
The eclipse will be observed in Azerbaijan too, but will not cause disturbance for the people. Guliyev said solar and lunar eclipses occur for 6-7 times a year.
/
APA
/