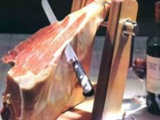 Food products made from the meat of dead animals have been revealed in Azerbaijan, press service of the Prosecutor General's Office said.
Prosecutor General's Office and Ministry of Economic Development issued a joint statement about it. According to the statement, State Service on Antimonopoly Policy and Protection of the Consumers' Rights under the Ministry of Economic Development, inspected the production and sale of the meat products in the facility owned by Rzakhanov Mirza Ehtigat.
1847k of beef in the refrigerator and 609k of beef on sale underwent organoleptic testing. The results found out black spots on the meat and nonspecific smell. Samples were taken from the products to evaluate their usability and sent to the Republic Veterinary Laboratory.
Bacteriological contamination was revealed in the samples taken from the sale, it was found out that all samples taken from the refrigerator and sale turned out to be the meat of either ill or dead animals.
The materials gathered by the Ministry of Economic Development were sent to Prosecutor General's Office for legal assessment. Criminal case has been launched on the fact on articles 200.2.3 (causing great amount of damage by deceiving consumers, producing and selling low-quality) and 308.1 (abuse of power) of the Criminal Code. Department to Combat Corruption under Prosecutor General's Office is carrying out the investigation.
/APA/