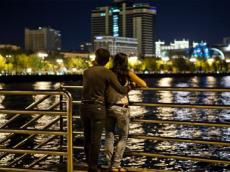 By AzerNews
Baku entered the top ten cities that the CIS Russians visit during May holidays.
Based on data about hotel reservations by tourists, the news was announced by the Russian Oktogo.ru online reservation service.
Judging by the number of Russians traveling during May celebrations, Minsk, Tashkent, Almaty, Baku, Kiev, Yerevan, Chisinau, Astana, Bishkek, and Lviv were placed among the top ten cities. Georgia's capital is also in great demand by Russian tourists who organize their holidays independently.
Azerbaijan's capital is the most expensive city among them, the report shows. Russians spend an average of about 8,700 rubles (RUB 1.00 = $0.0291533) per day only on hotels. Most Russian tourists travel to Baku for four days, the report reads.
In Almaty, the Russians pay around 4,000 rubles per day for accommodation, while the figure is 5,000 in Astana and about 4,500 in Minsk. The cheapest city is Bishkek, where only 1,400 rubles per day is needed for hotels.
The May visit to Baku will also take first place by the number of exhibition projects. Thus, Baku-based Museum of Modern Art is hosting an exhibition by Azerbaijani artist, sculptor, designer, theorist, poet, and philosopher Chingiz Babayev.
In addition to that, the "Love Me, Love Me Not" exhibition of contemporary art is featuring the works of 16 artists from Azerbaijan, Georgia, Russia, and Iran.
A solo exhibition by recognized French artist and sculptor Laurence Jenkell features an extraordinary way of presenting national flags -by candy figures; 26 sculptures of flags of different countries are put on display at the exhibition which will run till October 31.
Given the strong interest in the capital, Azerbaijani Airlines started to operate four new flights to the Nizhniy Novgorod, Perm, Kazan, and Rostov from the Heydar Aliyev International Airport on May 20.
Since May 20, the number of Baku-Moscow/Moscow-Baku flights has increased to four flights per day. Flights will be carried out by Embraer and Airbus aircrafts.
AZAL also opened international flights from Ganja to Mineralnye Vody on May 22. The flights will be done on Sundays.