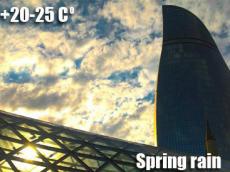 Besides the short-term rain, especially towards the night in several places, weather will be pleasant with cloudy sky and volatile gloominess in Baku and Abhseron peninsula on April 18. Gentle south-western wind is expected. The temperature will be +7-12C at night and +20-25 in the noon.
Notwithstanding the short-term rain and lightning in some mountainous and foothills regions, weather will have generally rainless course. Separate zones to be misty in the morning. Eastern blow us predicted. The temperature will be +8-13C at night and +20-25 and in the noon, while +4-9C in mountains at night and +13-18C in the noon.
Meteosensitive people to be pleased with comfortable weather condition during the next three days.

/Eco.Gov.Az/