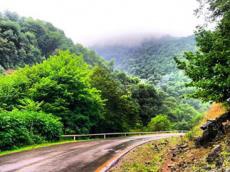 By AzerNews
Now, when the pleasant warm weather gradually returns to Azerbaijan, it is the very time to visit the picturesque regions of the country that are covered in silky grass, subtle leaves, and fragile blossoms.
Destination is never a place, but a new way of seeing things, said American writer Henry Miller. If you want to see the most poetic season of the year in new colors, come to Azerbaijan!
Wake up from the winter dream with a delicious journey to Azerbaijan and its pleasant, lively air, tasty food, and attractive regions that you can find nowhere but in Azerbaijan, the multinational country with diverse and splendid traditions.
Domestic travelling is developing in Azerbaijan every year, and local travel agencies are proposing a variety of tours to the historic and unique corners of our country.
The most attractive and colorful parts of the country in spring are north and north-west parts, travel agencies assure us.
You can enjoy any kind of tourism you like; tourism companies offer culinary, historical, and regular tours, hunting, and extreme excursions which include hiking and mountaineering, rappelling, and other captivating activities.
Are you young and energetic? Then try active recreation in Shahdag, which you will definitely like; it is surrounded by magnificent green mountains and plains covered with flowers, but still suitable for mountaineering, skiing, and ice climbing.
Are you looking for a romantic journey? Immerse yourself in the aromatic embrace of fields and forests in Guba and Gusar, which will give you and your beloved an indelible impression of spring.
Want to learn more about our ancient history? Choose tours to Altiaghac, Beshbarmak, Siazan, Davachi, and Shaki, and Oghuz to visit ancient temples, castles, and villages, and receive new information about the region.
Whatever you choose will be sweetened by delicious food, which highly varies depending on the region, and crystal clear spring water.
You can also revitalize yourself in our local health centers, which propose vivifying mountain air, warm climate, and fitness in Guba region, resort and spa in Galaalty with sulfuric mineral water baths, as well as thermal-radon spas in Istisu.
You know, spring sets the tone for the whole year, so spend it cheerfully and healthily to have enough energy for further achievements!