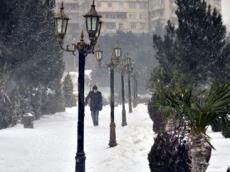 The National Hydrometeorology Department of the Ministry of Ecology and Natural Resources forecasts an intermittent snowfall which will intensify in some places of Baku and Absheron peninsula at night and in the morning on January 31. Blizzard is expected.  Roads to ice up. The temperature will be -1-3C at night and in the morning, while up to -5C in the evening.
Regions will have a snowy day. It will be strengthen in some regions and cause roads to crust. Biting northern wind to waft. The temperature will be from frosty with 0-4C at night and from -2 to +3  in the afternoon, while -15-20C in mountains at night and -2-7C in the noon.

Warning
It is not advised to stay outside for a long time on January as the weather will be strongly windy, frosty and snowy.

/Eco.Gov.Az/