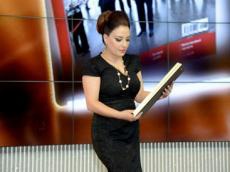 Day.Az
Media Company has been awarded with "Company of the Year" award for its achievements in the past year.
Successful companies in different fields have been awarded in a solemn presentation ceremony held at Jumeirah Bilgah Beach Hotel. Day.Az Media Company has been announced there as the winner of "Company of the Year" award.
Day.Az Media Company is the Internet media giant of Azerbaijan. The Company combines various profile sites such as day.az, milli.az, today.az news portals, moy.day social network , e-mail service, lady.day.az, video.day.az, music.day.az, cinema hall etc.
Lady.day.az women portal, the new project of the Company, reflects all the interesting moments of women's life such as family, health, beauty, fashion, sports, cooking etc.
Another new project of the Company is Jobs.Day.az web portal which is the most effective tool offering employment in the labor market. That site provides the best specialists and jobs throughout Azerbaijan. 5 thousand new profiles get added every to Jobs.day.az which maintains more than 11 million summaries.
Comprehensive, checked data are collected in the site, and classified by 26 occupational areas, 450 professions. Every day more than 100 people get the information, more than 300 companies select employees by benefiting from the databases. Every company can place job announcements and advertisements in Jobs.Day.az, every user can find relevant ads using the search system.
10 years old Day.az news portal once again maintained leading position in the prestigious Yandex.ru search system as the most addressed portal among the South Caucasus countries.
Day.az Media Company growing year by year and being a leader in the South Caucasus is planning to increase the development and dynamics, expand advertising market, increase reader audience via its new projects. So, the Company is targeting to hold the most leading positions in the international media sector.