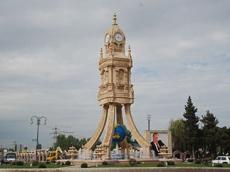 By AzerNews
A number of plans are going to be implemented to boost economic infrastructures in Azerbaijan's Khachmaz region.
A new airport is planned to be built in the region, Renessans Studio Ltd. Said in a statement.
"Given the potential of this region, which can be turned into a tourist center, it is advisable to build runway complex and organize air traffic here on unused area of 150 hectares owned by Azerbaijan Airlines JSC and," the statement reads.
Moreover, Azerbaijan Railways JSC plans to improve railway stations, farms and equipments, as well as launch express trains in this line by 2030.
Some port facilities for water transport, which will ensure both local population and tourists by sea transport and will also promote tourism development, are planned to be constructed along the coastline of the Caspian Sea (Khudat, Khachmaz, Siyazan).
Furthermore, to meet the public demand for bread and bakery products it is proposed to build four plants by 2018. Given that potato production in the region exceeds twice as much as consumption, it is appropriate to construct two enterprises producing potato chips with a production capacity of 1100 tons and building 3 companies producing frozen potatos with a production capacity of 4000 tons.
For the purpose of creating new jobs in the region, it is proposed to build 17 new plants on the production of footwear, textiles and carpets, as well as to create an enterprise for the production of nylon and plastic bags. Construction of 32 refrigeration systems and eight enterprises producing 40 tons of mixed animal food is also planned.
Guba-Khachmaz economic region includes Shabran, Khachmaz, Guba, Gusar and Siyazan administrative regions. This area, whose economic backbone is agriculture, has a dense network of large rivers and large water resources.
The region has developed light and food industries, and the production of canned fruit and vegetable, fish and weaving carpets makes the basis of agro-industrial complex.
Branches of the heavy industry in the region are represented by oil and gas production in Siyazan, electrical plant in Cuba, shop for recycling iron and steel, brick factories in Guba, Khachmaz, and Siazan, and enterprises for the production of containers.
Such agriculture crops as grapes, potatoes and wheat are grown in Khachmaz, Shabran, Siyazan. Dairy cattle breeding is developed on the plain area, while the sheep breeding - in the mountainous and foothill areas.
Railway and a highway, oil, gas and water supplies, telecommunication lines, and lines of communication linking Russia and Azerbaijan go through the territory of region.
Moreover, the region is an important resort and sanatorium area of the country and has a rich resort and recreational resources. Thus, Shabran has the sanatorium on the basis of healing water of Galaalti mineral spring.