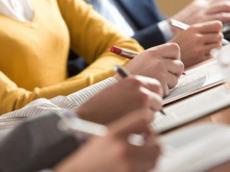 By AzerNews
Azerbaijan's Press Council has launched a project to identify the best journalists covering international issues, Chairman of the Press Council said on October 31.
The Council intends to observe the local media to determine which media works best in the field of international journalism, Aflatun Amashov said at a special meeting.
The Council will also see which journalists speak foreign languages more fluently.?
Afterwards the Council will identify the best international journalists with the aim of sending them to world's leading media for long-term training.
Moreover, Amashov said that following the monitoring and the exchange of views with experts, courses in which leading specialists in international affairs took part would be organized.
The Press Council has already held preliminary media monitoring of 20 newspapers and 10 news portals.
According to the study, over 80 percent of the news in the field of international politics falls on news portals. Monitoring showed that news portals covered mostly European news, while newspapers covered Asian news.
Most of the material was related to the cooperation of Azerbaijan with international organizations, followed by the Nagorno-Karabakh conflict, cooperation with Europe, the South Caucasus issues, and Azerbaijan's relations with Asian countries.
Much of the news material (2,000 of 3,500 news pieces) had a political aspect and was related to Europe and America.
In the second place were economic and scientific topics, mostly related to the Asian continent.
The third belonged to the field of culture, and the news materials were mostly associated with Europe, especially Turkey.
Monitoring and selecting the experts is expected to happen within a year, after which the plan for the events will be determined.