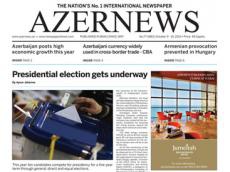 A new print edition of the AZERNEWS online newspaper was released on October 9.
The new edition includes articles about the October 9 presidential election in Azerbaijan, the central bank's citing wide use of the Azerbaijani currency in cross-border trade, celebration of the 20th anniversary of TURKSOY in Ankara, an expected rise of the Caspian Sea level after 2020, the game Under Occupation: Agdam presented in Baku, listing of an Azerbaijani 'magnetic man' in Guinness World Records, upcoming concerts of American jazz musicians at the Heydar Aliyev Palace, etc.
You can also get useful information about the peculiarities of weight training nutrition in the article of AZERNEWS weekly columnist Scott Fenwick.
AZERNEWS is an associate member of the World Association of Newspapers and News Publishers (WAN-IFRA).
The online newspaper is available at
www.azernews.az.