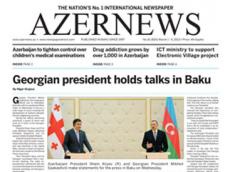 2015 will be an important year - a great milestone in the sporting life of Azerbaijan, as the country is chosen as a venue for the global-scale sports events such as the 2015 World Chess Cup and 2016 World Chess Olympiad.
An organizing committee has been recently established in the country to deal with the issues on holding these events in the Azerbaijani capital Baku. Read more about it in AZERNEWS online newspaper's print edition published on March 1.
Also, in the new edition you can read articles about Georgian President Mikheil Saakashvili`s two day official visit to Azerbaijan, possibility of application of draft law on compulsory medical examination of children, discussions on Azerbaijan's role in the Southern Gas Corridor project at the U.S. Congress and others.
AZERNEWS is an associate member of the World Association of Newspapers and News Publishers (WAN-IFRA).
The online newspaper is available at
www.azernews.az.