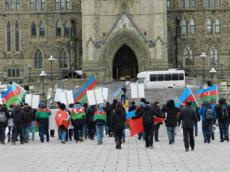 In Ottawa on Friday held a rally dedicated to the 21st anniversary of the Khojaly genocide, said in report of Azerbaijani embassy in Canada.
Rally, which started from the building of the Parliament of Canada and ended at the Armenian Embassy in Canada, attended Azerbaijani citizens living in Ottawa, Montreal, Toronto and Waterloo and Azerbaijani students studying in these cities.
During the procession were sounded slogans against the crimes committed by Armenian armed forces on February 25-26, 1992, and the occupation of Azerbaijani territories, ongoing since 1988.
The demonstrators demanded to stop aggressor policy of Armenia and called on members of Canada parliament to provide a legal and political evaluation of the Khojaly genocide.
On Feb. 25-26, 1992, Armenian occupation forces together with the 366th infantry regiment of Soviet troops stationed in Khankendi (previously called Stepanakert) committed an act of genocide towards the population of Azerbaijani Khojaly town.
Some 613 people were killed including 63 children, 106 women and 70 old men. A total of 1,000 civilians were disabled during the genocide.
Eight families were killed, 130 children lost one parent and 25 lost both. Additionally, 1275 innocent residents were taken hostage, while the fate of 150 remains unknown.

/Trend/