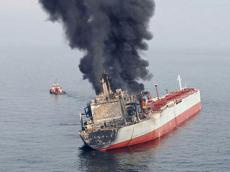 Fire occurred on the deck of a diving support vessel in Sabail district of Baku last night.
Some 230 square meters of combustible structures of cabin on the deck of an unserviceable diving support vessel "Siyazan" with total area of 4,125 square meters caught fire in Sabail district of Baku, Azerbaijani Emergency Situations Ministry told on Friday.
The remaining part of the ship, 40 oxygen and gas cylinders were protected from fire.
The fire was extinguished at 06:14.



/Trend/