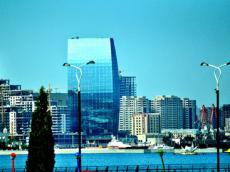 An exhibition entitled "Medieval Ports in the Maritime Routes of the East. North Aegean, Black Sea, Caspian Sea" reflecting 39 medieval ports, from Thessaloniki to Baku opened.
The exhibition was held as part of the project "OLKAS: "From the Aegean to the Black Sea" – medieval Ports in the Maritime Routes of the East." (2012-2013).
According to ekbmm.gr, the aim of the project Olkas is the promotion of the medieval cities –ports of the Black Sea and the cultural heritage preserved in them, in order to contribute to the development of the cultural tourism of the area. This development tents to highlight the cultural, tourist and economic relations in the region, through the medieval monuments preserved.
The project is funded by the European program "Joint Operational Program" BLACK SEA 2007-2013" and by national resources, and coordinated by the European Centre of Byzantine and Post Byzantine Monuments (E.K.B.M.M.). Through the project "Olkas" has already been established a network of bodies representing the countries around the Black Sea (Turkey, Bulgaria, Romania, Ukraine and Georgia) which focus on the study and the promotion of the medieval heritage of these countries.
Partners of EKBMM in this project are 7 institutions from 6 countries: Cultural Center of Thessaloniki (GR), Istanbul University (TU), Cultural Awareness Foundation (TU), Varna Regional Museum (BU), Museum for National History and Archaeology for Constanta (RO), Branch for the Hellenic Foundation for Culture in Odessa (UK) and "G. Chubinashvili" National Research Centre for Georgian Art History and Heritage Preservation (GE). In addition, there are 4 associate partners: Russian National Committee for Black Sea Economic Cooperation (RU), Committee for Preservation of Cultural Heritage (UK), Institute of Archaeology "V.Parnan" of the Romanian Academy (RO) and Administration of State Historical – Architectural Reserve "Icherisheher" (AZ).



/AzerTAc/