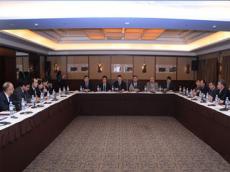 Baku has today hosted an event dedicated to the completion of the Kahriz (underground water pipes) restoration project of the International Organization for Migration (IOM) supported by the Korea International Cooperation Agency (KOICA).
Opening the ceremony head of the IOM in Azerbaijan Serhan Aktorpak spoke about the significance of the project, as well as cooperation relations.
First Secretary of the Korean embassy to Azerbaijan Li Von-sik and representative of the Cabinet of Ministers for work with the refugees, IDPs and migrants Gurban Sadigov spoke of the development of the Korea-Azerbaijan relations, as well as the role of the embassy in the strengthening of ties.
It was noted that in 2010, IOM began a "Kahriz" rehabilitation project with funds from the Korea International Cooperation Agency (KOICA) which aims to fully renovate a total of 20 "kahrizes" in the mainland of Azerbaijan. Of these 20 "kahrizes", already 16 have been rehabilitated and four are currently under rehabilitation.
IOM intends to continue implementation of such projects.
The event also featured demonstration of a documentary.
/AzerTAc/