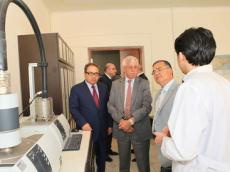 Rector of Baku State University Abel Maharramov met Wednesday with the delegation of the Anadolu University of Turkey.
Rector A. Maharramov spoke about significance of strengthening relations between two countries.
He said the BSU has close ties with many universities of the world.
Rector of the Anadolu University, Prof. Davut Aydin informed about the activities of the university.
Anadolu University houses 16 faculties, 1 conservatory, 7 institutes and 42 research centers, 1 "TRT-okul" TV channel and 2 studios.
The rectors discussed cooperation between Anadolu University and Baku State University in scientific, education and innovation spheres. Then, the Turkish delegation visited the Museum of President Heydar Aliyev, scientific library, and Electronic Educational Center functioning at the Baku State University.
/
AzerTAc
/