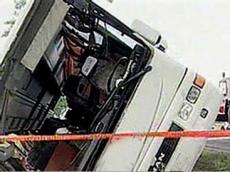 A road accident involving two passenger buses occurred in Baku thins morning.  Two buses "Daewoo" moving en route  '170'collided in an area known as "Shamahinka" at 10:00.
One bus hit the back of another bus setting off a chain reaction all the way down the line that ended with a passenger car hitting the vehicle. Second bus passengers received minor injuries. 
Causes of accidents  have not reported yet.
/Milli.Az/