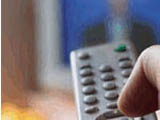 All of Azerbaijan will be covered by digital TV by late 2012, Deputy Communications and IT Minister Elmir Valizadeh said at a conference "From Traditional to Online Media" today.
"Digital television coverage in Azerbaijan hits 85 percent," he added.
"A social package of 12 channels is offered to people in regions. This social package consists of 24 channels in Baku."
He added that the Communications and IT Ministry has prepared a strategy. According to it, each settlement of the country must be provided with high-speed Internet by using fiber optic cable. These activities will be carried out jointly with the Azerbaijani State Oil Fund.
Much work is being conducted to create broadband infrastructure at the regional level, as well as by private companies.
He stressed that as 110 mobile phones falls to every 100 people in Azerbaijan and each of the three mobile operators renders broadband services, in fact, every citizen has the opportunity to use a worldwide network.
/
Trend
/