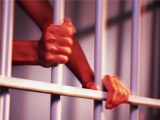 Five hundred prisoners were released by pardon orders signed in Azerbaijan since 1995, Department Chief of Justice Ministry's Penitentiary Service Rafig Ramazanov told journalists.
The order, signed by the Azerbaijani President on June 22, pardoned 66 people sentenced to imprisonment, 58 people sentenced to limitation of freedom, two people sentenced to the punishment as correctional work, six people sentenced to punishment in form of fine.
"There were no women or children among pardoned this time," Ramazanov said.
He noted that that gravity of offense and the degree of public security were considered during the pardoning
"Most of the pardoned persons don't commit a crime again. Rarely there are people who commit a crime negligently. Social adaptation measures are taken before the release of a prisoner from prison" Ramazanov said.
People detained during an unauthorized protest rally on April 2, 2011 in Baku were among the pardoned: head of the central executive body of the party Musavat Arif Hajili, Tural Abbasli, Zulfugar Eyvazov, Rufat Hajibeyli Babek Hasanov, Sahib Karimov, Ahad Mammadli, Mohammed Madzhidli, Ulvi Guliyev.
/
Trend
/