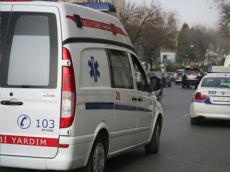 Road accident took place in Baku's Garadagh district. 5 persons injured as a result of the incident, Main State Traffic Police Office told APA.
Cement truck (Mercedes) collided with microbus (Ford Transit). Deputy Head Physician of Baku City Emergency and Urgent Medical Aid Station Zemfira Vahidova told APA that 5 persons injured during the accident. They have been placed at Clinical Medical Center #1. Their names or surnames are not known yet.
Investigation is underway on the fact.
/
APA
/