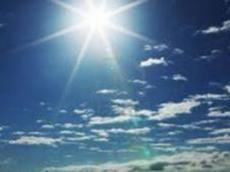 The weather will be changeable cloudy, mainly dry and close normal in Baku and Absheron peninsula tomorrow.   According to the Ecology and Natural Resources Ministry's report, north-west wind will blow and the temperature will be 17-20 C at night, 25-30 C in the daytime.
Temperature of the sea water at Absheron beaches will be 20-21 C in Sumgayit, Novkhani, Pirshaghi, Nardaran, Bilgah, 21-22 C Zagulba, Buzovna, Mardakan, Shuvalan and 21-22 C in Turkan, Hovsan, Shikh and Sahil.
Lightning and the intermitted rain is forecasted in some mountainous and sub-mountainous regions of Azerbaijan at night and in the evening. West wind will blow. The temperature will be 16-21 C at night, 29-34 C in the daytime, in mountainous 10-15 C at night, 20-25 C in the daytime.
/Today.Az/