Iranian Ambassador to Syria Ahmad Mousavi said Tuesday that Tehran and Damascus enjoyed positive ties in all fields.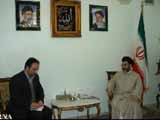 Mousavi said that the two capitals were promoting bilateral cooperation in the feilds of economic, industria, technical and engineering activities.
Referring to the cultural, scientific and social cooperation between the two countries, the ambassador said the two sides were to increase their cooperation in those fields.
"Over 600,000 Iranian pilgrims have visited the holy places of Syria this year," Mousavi said.
Referring to the soaring cooperation between the Iranian and Syrian scientific and university circles, the envoy called for taking proper steps to develop current level of bilateral ties to this end.
He said that arrogant powers' attempts for separating Iran from Syria have been aborted.
Iran and Syria strategic common points at regional and international levels have foiled threats of enemies.
/Irna/